INDUSTRIAL GAS SUPPLY & TECHNOLOGY FOR THE GLASS INDUSTRY
Crystal Clear Glass Making
We help our customer in this industry by offering gases for the oxy-fuel burners that are designed to improve efficiency, reduce fuel and emission that result in making of crystal clear glass.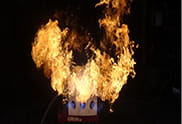 Using the right burner with oxy-fuel melting technology, you may increase your process efficiency and productivity while reducing emissions. The use of oxygen, instead of or in addition to air, can decrease your fuel consumption and increase your productivity due to faster melting cycles.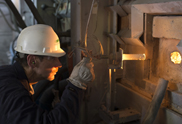 With the right systems for waste heat recovery in the glass industry we can help you provide reduction in energy consumption and carbon dioxide emissions, when compared to air regenerative and oxy-fuel furnaces.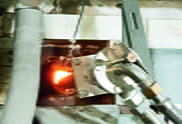 Our oxygen service portfolio for glass industry gives you options to enhance the process efficiency of your air-fuel furnaces by using Oxygen Enhanced NOx Reduction or Oxygen Support Services.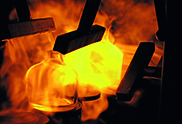 Glass surface treatment is a flame-based system that offers several benefits for the glass industry. The system is designed to run on either oxygen and hydrogen or oxygen and natural gas, depending on your specific requirements. This results in increasing brilliance of the glass surface and the elimination of seams and edges.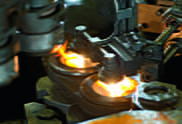 Carbon mold coating for glass formations offers many benefits compared to alternative methods for surface coating. These include reproducible coating results, stable temperature profile of the blank molds and reduced maintenance and cleaning effort.
Our teams of engineers and market specialists work with customers to understand their business needs and their existing processes to develop the relevant solutions that are tailored specifically to their requirements. Please contact us for the most cost effective services for your business.