Compressed / Liquified Gas Cylinders
We supply medical gases in both compressed gas cylinders and liquified gas cylinders. This supply option is for healthcare facilities for smaller demand. The cylinders are available in various sizes with different valves option.
Liquified gas cylinders, known as XLs are used as a mode of supply depending on the customer's requirement of consumption as well as feasibility. Liquified Oxygen and Nitrogen are supplied via this delivery option. This is a flexible solution to reach narrow spaces due to its smaller size.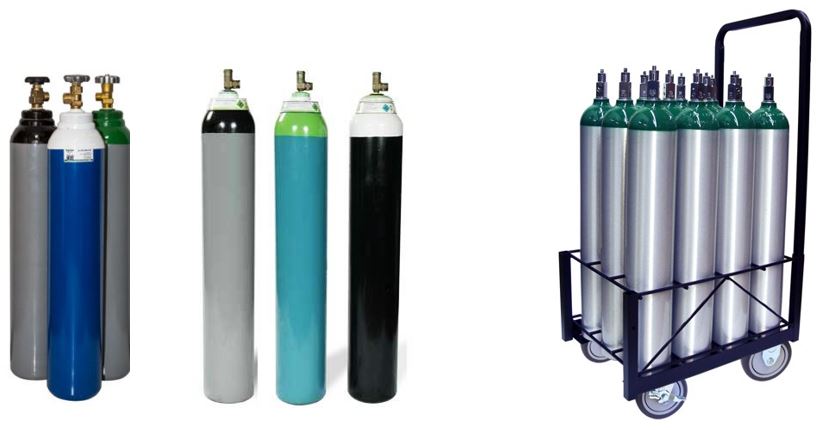 Our cylinders delivered are labeled, color coded, and cap sealed, ensuring highest safety standards. Serving home gas therapies to providing large cylinders for manifold system, our cylinder distribution system fulfils varying demand of our diversified customers portfolio.
Range of Cylinders Provided For Compressed Medical Gases
| | | | |
| --- | --- | --- | --- |
| Oxygen | 5 L water capacity | 10 L water capacity | 47 L water capacity |
| Gas Capacity in CUM | 0.8496 | 1.699 | 6.796 |
| Valve Operation | Pin Index | Side and top outlet | Side and top outlet |
| Cylinder Pressure full (bar) | 137 | 137 | 137 |
| | | | |
| --- | --- | --- | --- |
| Nitrous Oxide | 5 L water capacity | 10 L water capacity | 47 L water capacity |
| Gas Capacity in CUM | 0.8496 | 1.699 | 6.796 |
| Valve Operation | Pin Index | Wheel type | Wheel type |
| Cylinder Pressure full (bar) | 80 | 80 | 80 |
| | | | |
| --- | --- | --- | --- |
| Air | 5 L water capacity | 10 L water capacity | 47 L water capacity |
| Gas Capacity in CUM | 0.8496 | 1.699 | 6.796 |
| Valve Operation | Pin Index | Side and top outlet | Side and top outlet |
| Cylinder Pressure full (bar) | 137 | 137 | 137 |
| | | | |
| --- | --- | --- | --- |
| Entonox (50% 02/ 50% N20) | 5 L water capacity | 10 L water capacity | 47 L water capacity |
| Gas Capacity in CUM | 0.8496 | 1.699 | 6.796 |
| Valve Operation | Pin Index | Pin Index | Pin Index |
| Cylinder Pressure full (bar) | 137 | 137 | 137 |