Welding Short Course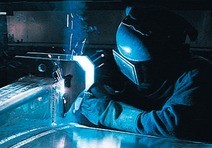 Learning outcomes
The trained person will:
Be able to use metal working tools, measuring & marking of metals, and prepare bench work exercises.
Explain gas welding, functions, and usage of their equipment.
Explain arc welding & various arc welding process, their equipment functions and usage.
Perform gas and arc welding in suitable welding positions and weld joints as per standard positions of EN ISO694.
Inspect and test the welded joints, understand, and avoid welding defects.
Follow safety procedures in welding practices.
Understand arc welding terminologies and variables like polarity, duty cycle, inductance, power source voltage and amperage etc.
Various shielding gases involve in welding processes.
Safety using gas cylinder involve in welding.
Choose suitable electrodes.
Perform gas cutting, understand cutting torches types and working.
Audience / Entry Candidates
Middle pass.
Welding equipment salesperson.
Industry entry level persons.